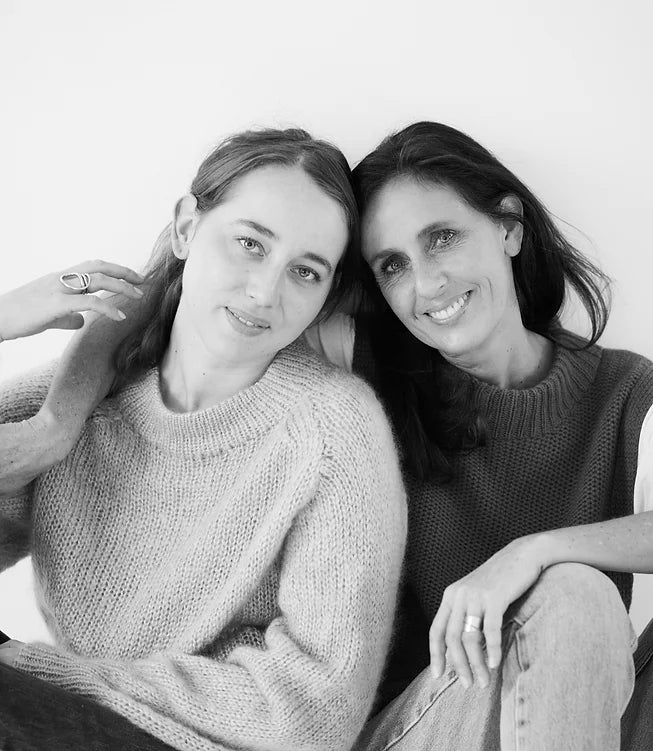 SLOW FASHION ATELIER FOUNDED BY A MOTHER DAUGHTER DUO
We are Macarena & Camille,  the mother daughter tandem behind "De lana".
Coming from a family of woollen workers in the south of Chile, my mom and I, decided to extend this heritage by creating our knitwear brand 'de Lana'.  Following a slow fashion approach, our mother-daughter duo offers exclusive handmade pieces made mainly on demand  in our own workshop near Brussels. Not only do we solely work with the finest materials, our whole approach is stooled on care. 
Beyond the choice of a manual and local manufacturing, we have at heart to work only with natural fibers of first quality, coming from responsible sources, spun and dyed consciously in Italy. 
Macarena, the brand's designer and main knitter, puts her know-how acquired since her youth to good use by designing feminine and timeless shapes to create original pieces that will envelop you in softness.
We happily welcome our customers in our intimate atelier near Brussels to learn your knitwear needs. As body parts are measured, textures stroked and colors chosen, time and time again an uncommonly close relationship emerges. Like a barstool or psychiatrist's couch, de Lana's atelier prompts people to pour out their hearts. 
Exceptional Materials
Carefully selected to meet the highest standards. Our commitment to quality begins with our choice of wools, sourced exclusively from European spinning mills renowned for their excellence. Our collection embodies the timeless values of natural and noble fabrics.
Conscious Fashion
We prioritize sustainability and safety by using Oeko-Tex certified wools. This certification assures our customers that our products are free from harmful substances and manufactured in an environmentally responsible way. We take pride in our use of RMS certified mohair as well, ensuring that our products meet the rigorous standards of the Responsible Mohair Standard, promoting animal welfare and ethical practices.
Authentic Craftsmanship
Each piece is delicately knitted in our workshop with the strength of our arms and the gentle touch of our hands. They are then assembled by hand to create enduring beauty and style, reflecting our commitment to handmade craftsmanship.